We all know that regular exercise is key to keeping yourself fit and healthy. But how is one to find the motivation to exercise in the first place? Well, many people join a gym to follow a fitness program because they feel that they are better motivated in a gym environment. However, a lot of them stop going to a gym after a few weeks due to numerous factors. Maybe the gym isn't big enough, doesn't have the proper equipment, is too far, etc.
For true motivation, the kind that will make you want to exercise more, you need to find the perfect gym.
Whether you're looking for a weight loss gym in Bedford, a fitness gym in Arlington, or any other area, the factors that play a role in making you want to go to the gym every day are:
Location and Time
A gym that is readily available is usually preferred by people. It should also have a big, free or at least enough parking space, with plenty of lighting so that people of all ages, especially seniors, find it easy to come to the establishment.
A gym should have a number of branches, at least two, so that members can choose the facility that is either near their homes or is closer to their workplace. Nobody likes making a half an hour trip to go exercise.
It should also be open 24 hours a day, seven days a week, so that members can choose a time that is most suitable for them.
Equipment 
A gym needs to have different machines and equipment so that it can cater to a variety of members. Furthermore, there should be ample space in the gym, so gym goers don't feel packed because of the equipment and other members around them.
Cardio equipment: Cardio machines such as the treadmills, stationary bikes, and ellipticals should be in good condition and should offer all the latest features, for example, the treadmills should show the heart rate reading, miles run, etc. so that members can keep track of their progress. The gym should enough of each machine so that a number of members can exercise at the same time.
Dumbbells: Dumbbells come in a variety of sizes ranging from heavy to light. A gym should have multiple sets of dumbbells so that a number of people can use them at the same time as waiting long for their turn can annoy gym members, and some might not return.
Weight machines: Weight machines help in a workout routine by isolating the muscles that a person needs to target. All weight machines should be up to date and properly maintained so that they are safe to use. Old weight machines that look dilapidated will not inspire members to use them.
Weights: Weight lifting is popular among both men and women. A gym should have different sets of weights so that all members can easily use them.
Gym Classes
Another thing that makes a person want to exercise more is gym classes, because a lot of people don't want to go to a gym lift a few weights and call it a day. A gym that offers different classes can attract a lot of members.
Gym classes should include great exercises such as:
Zumba: A workout through which you can lose an exceptional amount of calories just by dancing to a nice beat.
Body shred: A high-intensity workout which helps to cut down on fat efficiently.
Body attack: A high-energy fitness routine which can be done easily by both beginners and hardcore exercisers to improve functional fitness.
Some other classes include mixxedfit, turbo kick, yoga, cycling, body pump, and strength and conditioning.
Other facilities
A gym should provide other facilities such as a sauna as this will not only help attract an increasing number of members to the gym, but will also assist them in relaxing their muscles after an intense training session.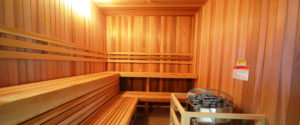 Finding a gym that can offer you all of the things mentioned will surely end up providing you that sense of motivation you require to exercise. It's all about convenience, and the more convenient a gym is for you, the more you'll want to go.
Fitness Nation is a well-equipped fitness facility that offers gym classes, cardio equipment, weight machines, and more. With two locations open 24 hours a day, 7 days a week, you don't have to miss a workout! Drop by today to check out one of the facilities, and feel free to bring a friend to keep you company.